Exclusive Lifetime Engine Warranty
Receive the Exclusive Lifetime Engine Warranty Here at Knight Dodge
Here at Knight Dodge in Swift Current, we're very excited to offer our new and pre-owned vehicle customers the opportunity to drive off our lot with the Knight Lifetime Engine Warranty. This particular warranty applies to the motor itself and helps to protect owners against costly repairs. Thankfully, there is no out of pocket charge for clients covered by this warranty, but there is a $200 deductible for each repair visit. Best of all, you can have your vehicle serviced at any participating Knight service center with this coverage. When your vehicle is in our care, we'll make sure it's running properly and back on the road in no time.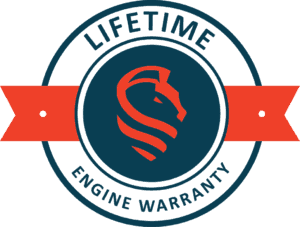 Warranty Qualifications and Stipulations
For the lifetime engine warranty to remain active, your vehicle must:
Have no more than a total of 160,000 km driven when purchased.
Have all regular maintenance services performed at any participating Knight dealership.
Customers who are 500 km away or farther from Knight Dodge are allowed one free lube, oil, and filter service per year. A copy of the service receipt must be presented to Knight service technician and there is a 1,000 km lead way allowed for tire rotations and lube, oil, and filter services. Maintenance for the transmission, air conditioner, and alternator are not covered by the lifetime engine warranty. Vehicles that operate on diesel or high performance fuels are not eligible for this warranty, along with livery vehicles such as taxis and limos.
Dependable, Trustworthy Maintenance
Knight Dodge employs only the best technicians in our service department. Certified, factory-trained automotive experts are available to help diagnose and repair any sort of issue your vehicle might be experiencing. Whether it's a quick procedure, like an oil change, or an extensive exterior repair, our garage is well equipped to handle a wide range of issues. Scheduling an appointment is fast and easy. All you have to do is go to our website and fill out an online appointment form. We'll do our best to ensure your vehicle is looked at in a timely fashion and returned in top condition.
Take a Trip to Knight Dodge for Your Automotive Maintenance Needs
Receive the Lifetime Engine Warranty and let us help you get the most out of your vehicle through our service department. For any questions about this warranty or to schedule an appointment, give us a call at (306) 773-9301 or come visit our dealership at 208 Cheadle Street in Swift Current and we will be happy to assist you.
Start Shopping