What Does an Alternator Do?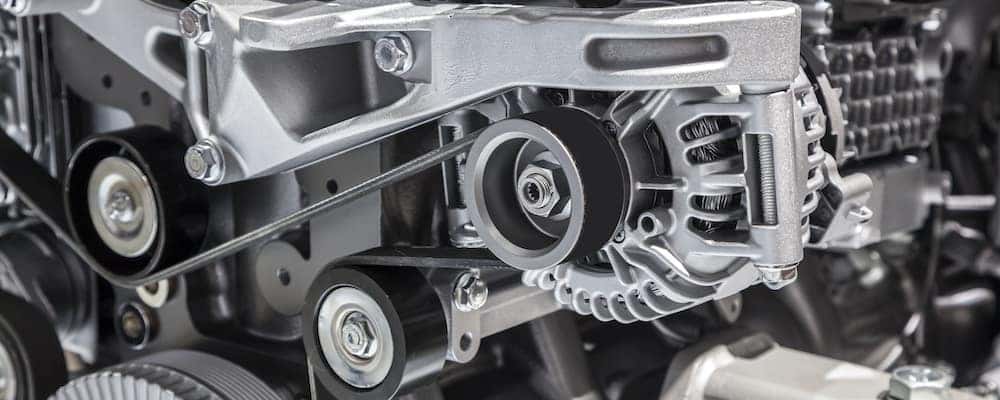 Your Dodge, RAM, Jeep, or Chrysler's alternator delivers power to the car's electrical system while the car is running. Most people think the battery powers the car, but in fact, the battery is only used to start the car. The alternator functions as the car's generator, drawing its energy from the gas engine.
Common Issues for Alternators
Like all pieces of your Dodge vehicle, your alternator needs maintenance to extend the life of your car. Make a trip to Knight Dodge near Rosetown if you notice any of these signs that your alternator is experiencing issues:
Burning rubber smell under the hood
Devices not charging
Battery warning light appearing on the dashboard
Dim headlights or interior lights
Whining or screeching sound after the vehicle has started
Unable to start
How to Tell if Your Alternator or Battery is Failing
It can be easy to mistake a failing alternator for a failing battery in your Dodge model. If you're trying to tell if your issue is with your alternator or battery, follow these steps:
Wait until the vehicle is unable to start and needs a jump
Go ahead and jump-start the engine
Remove the jumper cables after it starts
If your vehicle dies immediately, the problem is likely your alternator. Schedule service near Maple Creek to have a certified technician take a look if you're still not sure.
How Long Does an Alternator Last?
Most alternators last between approximately 130,000 and 240,000 km, or about seven years. Some factors, though, can cause your alternator to wear out more quickly. These include:
Driving conditions
Power drain on the alternator
Alternator quality (year/make of your vehicle)
How Much Does it Cost to Replace an Alternator?
Since different models require different alternators, there's no firm figure on how much an alternator will cost. If you think you need a new alternator and are curious, though call Knight Dodge for a free quote at . Our parts department can help you with alternators that are designed for your particular Dodge vehicle. On top of that, our Dodge, Jeep, RAM, and Chrysler technicians have the training and experience to correctly.
Visit Knight Dodge  for a New Alternator
Get in touch with us to check for a new alternator at the parts department at Knight Dodge. We will help you find the alternator you need at a reasonable price. Contact us with any questions, or stop by our service center near Kindersley!
More Car Service Tips
Car owners should know how to check their transmission fluid on a regular basis to prevent maintenance issues.  If you're running into any problems, contact Knight Dodge, and we'll make sure your vehicle has the correct amount of transmission fluid. We strive to offer quality service to our customers in the Maple Creek area, and we'll make…

Your vehicle's tires should be rotated every 10,000-12,000 km (5,000-7,500 miles). This is a general rule for most models, but for a more specific mileage marker, check your owner's manual for your model. Curious to learn more about rotating tires? See the difference between FWD and RWD vehicles as well as AWD tire rotations with…

The Wrangler was built for adventure. Maple Creek drivers who are looking for a strong, durable, configurable vehicle need the Jeep Wrangler. This model includes features such as removable parts for a more convenient driving experience. Learn how you can remove the Jeep Wrangler doors with our guide and start your adventure today! Contact Us More About…